IntoKildare, the Kildare Tourism Board (County Kildare, Ireland) arranged for Taoiseach, Leo Varadkar to visit Solas Bhríde Centre & Hermitages in Kildare on Friday 27th Jan. At the visit the Taoiseach gave his support for the Saint Brigid's Day, Pause for Peace movement, an initiative spearheaded by IntoKildare and Solas Bhríde.  Pause for Peace will see the residents of County Kildare (Ireland) calling on people all around the world to stop for a minute's silence at 12.00 noon (local time) on the 1st of February 2023.
While at Solas Bhríde, the Taoiseach took a spark from the Saint Brigid's flame to light a special candle to mark the global call for peace. The Saint Brigid's flame was symbolically relit at a justice and peace conference in Kildare Town in 1993 and has been tended by Solas Bhríde for the past 30 years. The flame burns as a beacon of hope, justice, and peace for the world. He then planted an Oak tree in reference to the literal meaning of 'Cill Dara', 'Church of the Oak' as Saint Brigid built her church beneath an Oak tree. A new IntoKildare St. Brigid Audio Trail was also unveiled at the Taoiseach's visit.
The Taoiseach said, "By pausing for peace we are asking people to come together to oppose war and to be inspired by Saint Brigid of Kildare, a peace maker, a protector of the natural world and a formidable force for justice. This year is the first time we will have a public holiday in the name of Saint Brigid on the 6th of February which formally recognises her remarkable legacy."
Dignitaries in attendance included IntoKildare Chairman, David Mongey, CEO of IntoKildare, Áine Mangan, Sr. Rita Minehan and Geraldine Moore of Solas Bhríde. Also in attendance was the CE of Kildare County Council, Sonya Kavanagh, Paula O'Brien, Brigid 1500 and Martin Heydon T.D.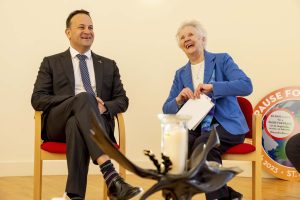 2024 marks the 1500th year of the passing of Saint Brigid, the patron Saint of Kildare and one of three patron saints of Ireland.  In preparation for this special year various activations will take place in 2023. The Pause for Peace movement is one of these special events and celebrations which formally recognises the importance of Saint Brigid from a cultural, religious, spiritual, and historical point of view. 'Brigid 1500' will see a whole series of celebrations and events taking place at home and abroad while 2023 will also be the first year that Ireland will celebrate the new public holiday in the beloved saint's name. The new national holiday will be held on the 6th of February this year and is expected to provide a great boost for tourism to County Kildare and for the whole country.
Áine Mangan, CEO of IntoKildare said, "We are very excited about Pause for Peace and want to thank the Taoiseach for his support.   We are also working alongside our partners and colleagues at Tourism Ireland and Fáilte Ireland to promote Kildare and the new public holiday all around the world. Other activations and celebrations which are being led by IntoKildare include the lighting up of the Hill of Allen and Cupidstown Hill on the eve of Saint Brigid's and a host of trade missions and communications with international embassies and government departments.  IntoKildare, continues to work in association with Kildare County Council to deliver a comprehensive line up of special events to celebrate Brigid 1500."
Sr. Rita Minehan of Solas Bhríde said, "This movement for a Pause for Peace sets the scene for marking the new national holiday. It reflects a spiritual underpinning to the day and is consonant with the value of peace which Brigid stood for in her time."
She went on the say, "By pausing for peace, we send out a message that we actively oppose warfare and the proliferation of arms, which wreak havoc on human beings as well as on the natural world. This movement aims to awaken and build a spirit of global solidarity in our search for peace."
Pause for Peace will be held at 12.00 noon, Saint Brigid's Day, 1st of February 2023. For more information on the various Brigid 1500 activities see www.intokildare.ie or visit www.solasbhríde.ie  where you will get more information on Feile Bhríde, a week-long celebration of the legacy of Saint Brigid. #PauseForPeace.  Insta @intokildare