To celebrate Mother's Day spoil your mum with a special treat at Lyrath Estate. The spectacular countryside resort hotel is located on the doorstep of Kilkenny city and is set on 170 acres of mature parkland, complete with emerald woodlands, verdant walkways, and charming gardens.
Lyrath Estate is built around a 17th century Manor House, which has been delicately preserved, sitting seamlessly alongside a modern hotel wing. The charm and grandeur of the 17th Century period is perfectly aligned with the clean lines of the hotel where 141 guestrooms offer residents a comfortable and relaxing place to unwind and enjoy the picturesque surroundings.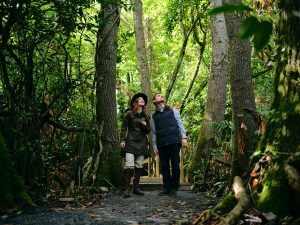 An elegant Afternoon Tea in the Lady Charlotte Drawing Room is a lovely way to spend an afternoon.
Located in the original Manor House of Lyrath Estate, it is named after Lady Charlotte Wheeler-Cuffe, a famous botanical artist, plant collector, gardener, and former resident of Lyrath Estate. The eclectic drawing room has feature wallpaper depicting vibrant jungle scenes and colourful flowers in a nod to Lady Charlotte's botanical discoveries and collections.  Deep sofas, elegant high-backed chairs and an interesting art collection all add to the contemporary feel of this room.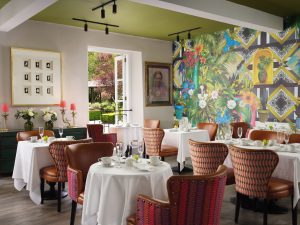 Afternoon Tea at Lyrath Estate is a grand affair, with savoury and sweet treats served on fine afternoon tea stands. Sip on your choice of delightful botanical teas from delicate bone china cups or opt for a glass of bubbles! Menu staples include such delicacies as Smoked Chicken and Sundried Tomato on a Brioche Bun and Ardsallagh Goats Cheese Wraps. Not to forget signature home baked classic scones served with cream, butter, and strawberry jam. Afternoon Tea is served daily from 12.30pm to 3.30pm and is priced from €40.00 per person.
For the ultimate Mother's Day gift, treat mum to a moment of luxury, elegance, and style with a treatment at the award-winning Oasis Spa. Choose from Swedish spa and wellness brand, Kerstin Florian, or the latest in innovative skincare with Elemis. Let's not forget the Mum's-To-Be!  Oasis Spa offers the Basq Maternity Massage, a customised full body massage using safe pre-natal techniques, to help relax, reduce fatigue, release tension, aches, and pains.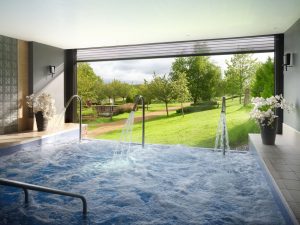 With days getting longer and spring in the air, why not gift mum a relaxing midweek getaway to Lyrath Estate. The Stepping Into Spring' midweek package includes two night's accommodation with breakfast each morning, a delicious 3-course dinner in The Grill & Bar on one evening with a complimentary Cream Tea on a day of your choice. (From €185 per person sharing midweek).
Alternatively, you could choose the Relax & Unwind two-night escape. This pampering package includes two nights bed and breakfast, a three-course dinner on one evening, and a 50-minute spa treatment for each guest followed by complimentary access to the Thermal Suite, with garden views. (From €335 per person sharing).
Lyrath Estate has recently partnered with Irish Craft Perfumery, La Bougie, to create a bespoke candle and linen mist capturing the true essence and history of the estate. 'The Lyrath Fragrance Collection', is brimming with notes of lavender, rose, honey, rhubarb, and ivy. Inspired by the delicate blossoms and elegant woodlands of the estate, this delicate fragrance was designed in honour of painter, plant-hunter, and botanist, Lady Charlotte Wheeler-Cuffe, who resided at Lyrath Estate for over 50 years. The Fragrance Collection is available to purchase from hotel reception, and Oasis Spa.  (Candle €25, Linen Mist €25)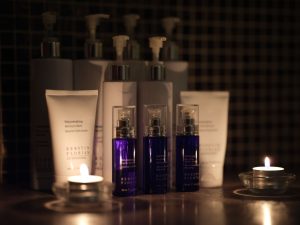 If there are too many tempting offers to choose from, you could surprise Mum with a Lyrath Estate Gift Voucher and you can let Mum choose for herself! Monetary Gift Vouchers can be used in part payment for overnight stays, dining experiences at The Lady Charlotte Drawing Room, The Grill & Bar, Yew Restaurant, or any spa treatment or product at Oasis Spa. For more information see www.lyrath.com or call 00353 (0) 56 7760088