IntoKildare, the County Kildare Tourism Board has this evening illuminated the Hill of Allen and the highest hill in County Kildare, Cupidstown Hill, as part of this year's festivities to celebrate the patron saint of Kildare, St. Brigid. The historic tower at the Hill of Allen emitted a series of bright lights at 6.00pm on Tuesday, January 31st, on the eve of St Brigid's. The Tower and hill will remain lit until midnight on the 31st of January before lighting up again from 6pm to midnight on St. Brigid's Day, February 1st.
International soprano and Kildare native, Celine Byrne sang 'A Candle For You', at the top of the hill and wore a St. Brigid inspired cloak designed by Irish designer, Jennifer Rothwell. The beautiful song was composed by Marie Dunne and Celine's performance was a moving tribute to St. Brigid whose legacy as a peace maker is renowned.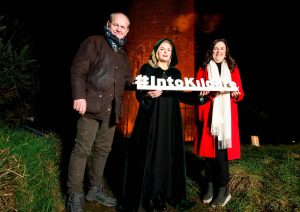 Due to restrictions, there is no access to the Hill of Allen during the lighting up ceremonies to ensure public safety. Members of the public will be able to view the 'lighting up' from their own homes by logging onto IntoKildare's Facebook page or by visiting www.intokildare.ie
St Brigid's Day traditionally marks the first day of spring and has been celebrated by Christians all over the world for many centuries.  The much-adored Kildare patron saint was born in the fifth century, where she built a monastery for men and women in Kildare around 470AD.   Irish missionaries and migrants carried her name and spirit across the world and today, pilgrims and visitors come to County Kildare from all over the world seeking to walk in Brigid's footsteps.
Additionally, IntoKildare and Solas Bhríde Centre & Hermitages have joined forces and launched a global 'Pause for Peace' movement which will take place tomorrow, the 1st of February 2023, Saint Brigid's Day.  Pause for Peace will see the residents of County Kildare (Ireland) calling on people all around the world to stop for a minute's silence at 12.00 noon on the 1st of February 2023.
2024 marks the 1500th year of the passing of Saint Brigid, the patron Saint of Kildare and Ireland and in preparation for this special year various activations will take place in 2023. The lighting of the hills and the Pause for Peace movement are just some of these special events and celebrations which formally recognises the importance of Saint Brigid from a cultural, religious, spiritual, and historical point of view. 'Brigid 1500' will see a whole series of celebrations and events taking place at home and abroad while 2023 will also be the first year that Ireland will celebrate the new public holiday in the beloved saint's name.
CEO of Into Kildare, Áine Mangan said, "From this year onwards Ireland will celebrate a new annual national holiday in honour of Saint Brigid, one of the three patron saints of our country. Saint Patrick had a national holiday declared in his honour in 1903, finally, one hundred and twenty years later Saint Brigid has been granted a similar honour. This decision marks the modelling of the equal dignity of male and female at national level. The new public holiday this year is on the 6th of February.  The Saint Brigid's Day Public Holiday is hugely important not just for County Kildare, but for the whole country when we expect to see hundreds of thousands of visitors travel to Ireland.  We are also working alongside our partners and colleagues at Kildare County Council, Tourism Ireland and Fáilte Ireland to promote Kildare and the new public holiday all around the world. Equally, from a domestic point of view, the new holiday will serve as a welcome uplift for hospitality providers who will enjoy a business boost in the shoulder period between Christmas and Saint Patrick's Day."