Into Kildare, the Tourism Board for County Kildare and Solas Bhríde Centre & Hermitages have joined forces and launched a global 'Pause for Peace' movement which will take place on the 1st of February 2023, Saint Brigid's Day.  Pause for Peace will see the residents of County Kildare (Ireland) calling on people all around the world to stop for a minute's silence at 12.00 noon (local time) on the 1st of February 2023.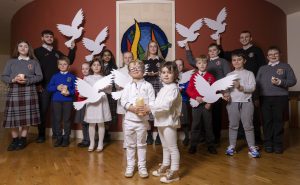 2024 marks the 1500th year of the passing of Saint Brigid, the patron Saint of Kildare and Ireland and in preparation for this special year various activations will take place in 2023. The Pause for Peace movement is one of these special events and celebrations which formally recognises the importance of Saint Brigid from a cultural, religious, spiritual, and historical point of view. 'Brigid 1500' will see a whole series of celebrations and events taking place at home and abroad while 2023 will also be the first year that Ireland will celebrate the new public holiday in the beloved saint's name.
CEO of Into Kildare, Áine Mangan said, "From this year onwards Ireland will celebrate a new annual national holiday in honour of Saint Brigid, one of the three patron saints of our country. Saint Patrick had a national holiday declared in his honour in 1903, finally, one hundred and twenty-three years later Saint Brigid has been granted a similar honour. This decision marks the modelling of the equal dignity of male and female at national level. The new public holiday this year is on the 6th of February.  The Saint Brigid's Day Public Holiday is hugely important not just for County Kildare, but for the whole country when we expect to see hundreds of thousands of visitors travel to Ireland.  Equally, from a domestic point of view, the new holiday will serve as a welcome uplift for hospitality providers who will enjoy a business boost in the shoulder period between Christmas and Saint Patrick's Day."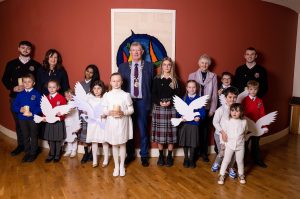 Sr. Rita Minehan of Solas Bhríde said, "This movement for a Pause for Peace sets the scene for marking the new national holiday. It reflects a spiritual underpinning to the day and is consonant with the value of peace which Brigid stood for in her time."
She went on the say, "By pausing for peace, we send out a message that we actively oppose warfare and the proliferation of arms, which wreak havoc on human beings as well as on the natural world. This movement aims to awaken and build a spirit of global solidarity in our search for peace."
She continued, "We are delighted to have three ambassadors for Pause for Peace, they are Ewan Morris, Lily Tyrell Kenny and Ben Ryan, senior students from Kildare Town Community School."
Already the news has started to spread around the world about the Pause for Peace movement through the Irish diaspora living abroad, through Tourism Ireland and via the international Solas Bhríde network.  New Zealand will be first to start the Pause for Peace movement when they will have a minute's silence for peace on 12.00 noon, their time on Saint Brigid's Day, 1st of February.
Sr. Rita explained that Pause for Peace asks people of all faiths and none to stop for a minute's silence and send out peace from their hearts to the people of the world. She said the movement has been inspired by Saint Brigid whose legacy is most relevant in our war-torn world today. "Saint Brigid was renowned as a peace maker and one of the most popular stories associated with her is that of her giving away her father's precious jewelled sword to a poor person so that he could barter it for food to feed his family. She was compassionate, a protector of the natural world and a formidable force for justice whose light shines ever more brightly today. From New Zealand to New York from Brisbane to Barcelona a minute's silence for peace will take place all around the globe on the 1st of February and will form part of the rolling Pause for Peace movement."
Áine Mangan said, "We are very excited about Pause for Peace and want to thank Sr. Rita and the Solas Bhríde team for their collaboration.  Other activations and celebrations which are being led by Into Kildare include the creation of a Saint Brigid's Audio Trail, the lighting up of the Hill of Allen and Cupidstown Hill on the eve of Saint Brigid's and a host of trade missions and communications with international embassies and government departments.  Into Kildare, continues to work in association with Kildare County Council to deliver a comprehensive line up of special events to celebrate Brigid 1500 and a full programme of events will follow.   We are also working alongside our partners and colleagues at Tourism Ireland and Fáilte Ireland to promote Kildare and the new public holiday all around the world."
The Cathaoirleach of County Kildare, Cllr. Fintan Brett said, "This is a momentous year for County Kildare, the Pause for Peace movement sets the scene for a year of joyous celebrations which will showcase all the fantastic historical and cultural experiences and attractions that Kildare has to offer. We look forward to welcoming our many friends both old and new to County Kildare over the new public holiday weekend and I would like to thank both Into Kildare and Solas Bhríde for their great efforts."
Pause for Peace will be at 12.00 noon, Saint Brigid's Day, 1st of February 2023. For more information on the various Brigid 1500 activities see www.intokildare.ie or visit www.solasbhride.ie  where you will get more information on Feile Bhride, a week-long celebration of the legacy of Saint Brigid. #PauseForPeace.  Insta @intokildare