Ireland's largest, Irish owned Managed IT Services Provider, Nostra has recently acquired the majority stake in Dublin based telecoms business, Voice & Data Solutions. This is the third acquisition made by Nostra in 2023 and the seventh firm it has acquired since the company embarked on its expansion and growth strategy.
In May of this year, Nostra announced that it had acquired Galway based, Passax, a company with expertise in telecoms and cloud-based PBX solutions.  A few weeks later, Nostra completed another acquisition, this time acquiring IT services company, Definitive Solutions adding an additional €5 million to Nostra's annual turnover which is expected to reach €50 million by the end of 2023. The addition of Voice & Data Solutions to the Nostra stable further bolsters the company's telecom's prowess and allows it to offer a full suite of integrated telecoms and IT solutions to its 300 plus clients.
Voice & Data Solutions was founded in 2010 by Sydney Harman, the company provides managed telecoms solutions to a myriad of SME's and large companies and lists Mercury Engineering as one of its clients.  Services provided by Voice & Data Solutions include the provision of premium voice and internet products, project management of telecom systems and sourcing 'best fit' telecoms solutions to meet client budgets.  Sydney Harman will stay on with the business in order to continue to service clients and will head up the telecoms division at Nostra.   The majority stake acquisition of Voice & Data Solutions now brings Nostra's total headcount to 280.
Nostra acquired Brandon in 2020 and over the last number of years has been strategically acquiring IT and MSP businesses which add value and expertise to its own offering.  To date Nostra has acquired Tech Department, Emit, Brandon, Enclave, Passax, Definitive Solutions and now Voice & Data Solutions.
Michael Murphy, Commercial Director of Nostra said, "Voice & Data Solutions has an impressive client list due to its outstanding service levels, innate knowledge of the telecoms landscape and its ability to constantly innovate and react as new telecoms tech becomes available.  Our clients want a seamless IT and telecoms solution and the team at Voice & Data Solutions have the ability, the knowledge, and the talent to help us to offer even more exciting products and solutions.  We are looking forward to working with Sydney and his team and to adding even more value and expertise to our clients,"
Kevin O'Loughlin, CEO of Nostra added, "We are working on closing a number of other acquisition deals and also have several job openings available across all departments.
We will continue to acquire businesses which will widen our customer base, expand on our expertise, and add to our technical ability."
Sydney Harman of Voice & Data Solutions said, "We are delighted that Nostra has acquired the majority stake in the business that I founded some thirteen years ago.  Together, with my team we have built a successful business with a great portfolio of clients.  I am excited for the future and look forward to the next chapter in the story of Voice & Data Solutions and Nostra."
Nostra's headquarters is based in Parkwest Business Park in Dublin and it also has satellite offices in Galway, South Africa and in Bulgaria.   For more see www.nostra.ie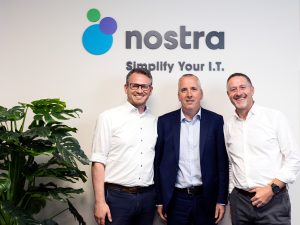 Nostra's advisors were Grant Thornton and McCann Fitzgerald while Voice & Data Solutions were advised by Obcom and LK Shields.